Clarksville Commons Farmers Market & Live Music Kick Off Outdoor Events for 2023
May 4, 2023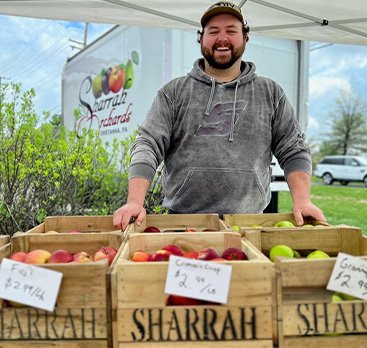 Clarksville, MD – The outdoor events season kicks off in May with live music every Friday night and a weekly farmers market each Saturday on the plaza.
This year's market will feature several local farmers including Hensing's Hilltop Acres; Clark's Farm; One Rock Farm (formerly Kindread Hill Farm), and Blue Gables Farm. New weekly additions this year include Sharrah Orchards, a fifth-generation farm located in Pennsylvania, and Tasty Empanadas from The Common Kitchen. Dimitri Greek Olives, Great Harvest Bread Co., Metro Microgreens, and new vendors Setas Mushrooms and Yorktown Spice will also be at the market on a weekly basis. In addition to the regular weekly vendors, Clarksville Commons Farmer Market will feature more than a dozen half-time and monthly local food and craft vendors including Raw Blossom, The Salvaged Stitch, Twin Valley Distillers, Apricity Flowers, The Urban Winery, and more! New vendors joining in the rotation this year include Deelightfully Soft, Haven Oak Garden Bakery, Heka Saucery, Kora Lee's Café, Organically Herbal, Wilde Lake Botanicals, and Waredaca Brewery.
Live music is back on the plaza every Friday with several new bands including Automatic Slim & His Sensational Band, who will lead the festivities beginning May 5 from 6:30-9:00 pm. Miss Moon Rising, The B-Sides, The and The Viper Brothers are new to the line-up this year and will be appearing throughout the May-September season. Popular favorites including The Soul Magnets, Liberty Road Band, Out of Order, and The Moxie Blues will be returning for the season. The free live music will continue every Friday evening throughout the spring and summer and will feature a wide mix of genres including jazz, rock, and folk.
Clarksville Commons' popular free outdoor movie series will return this summer with an entirely new selection of films for the whole family to enjoy. Movies will be on Wednesdays in July and August, and announcements on the exact movies to be shown will be coming soon.
Clarksville Commons, Howard County's first sustainable mixed-use commercial center, features environmentally sustainable architectural design and a focus on environmental stewardship and community impact. Every business at Clarksville Commons is encouraged to embrace sustainability and use environmentally conscious products.
For additional information contact Anastasia MacDonald at amacdonald@clarksvillecommons.com or 410-854-2090.