Barber Shop Opens Inside Victoria & Albert Hair
November 8, 2022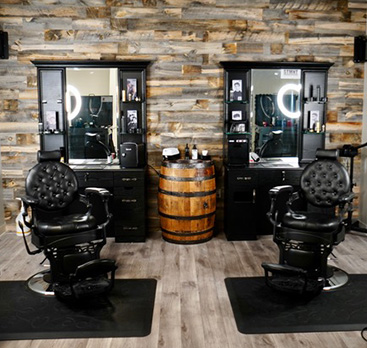 Clarksville, MD – The men of Howard County have a new place to go for a relaxing shave and haircut with the opening of an old-fashioned barber shop inside Victoria & Albert Hair. Master Barber, Rob Humienny, and Level 1 Barber, Parker Warner are the newest members of the level structure salon located at Clarksville Commons.
Occupying its own space within the shop, the barber area features traditional-style leather barber chairs, a whiskey barrel sink, and shiplap accents helping to create a unique and distinctly masculine design. Barbers Rob and Parker offer classic services including straight razor shave, haircut, beard trims, and head shaves. Serving clients of all ages, V&A Barbers offer styles from traditional executive contours to the precision of razor fades and creative sculpting.
The resurgence of men seeking professional barber experience has increased over the years and more shops are opting to provide a luxury experience. Victoria & Albert Hair has catered to both men and women at their salon since its opening in 1974, and with available space in the salon, they saw an opportunity. "Men have finally caught on to what women have known for years: a professional barber experience doesn't just make you look good on the outside, it lets you feel good about yourself," shared co-owner and stylist, Scott Schmidt. "Professional barbers are artists and providing our clients with close shaves and clean cuts is about combining that artistry with the established stylists we built our reputation on."
Rob and Parker have already begun establishing a devoted clientele at V&A Barbers. Appointments are available Tuesday through Saturday and can be booked online at victoriaandalberthair.com or with the V&A app.
Clarksville Commons is a 40,000 sq ft sustainable, mixed-use commercial center, creating a sense of place on Route 108 in the center of Clarksville. The developers are GreenStone Ventures, LLC, whose principals, Holly and George Stone, have lived and raised their family for over 20 years in Clarksville.