Bliss Natural Nail Care Opens at Clarksville Commons
August 1, 2020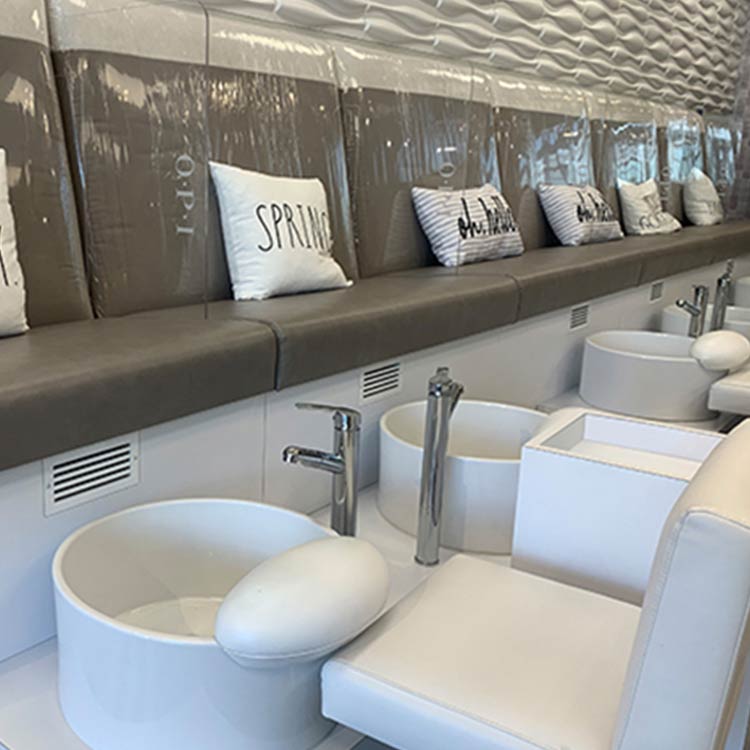 Clarksville, MD – Co-owner and operator Kelly Vo is pleased to announce the opening of Bliss Natural Nail Care at Clarksville Commons. Bliss was able to open quickly, even during these difficult times of a global pandemic, with only minimal work needed to update the space formerly occupied by Frenchies Modern Nail Care.
An updated décor with an emphasis on the calming attributes of the ocean invites you to relax from the moment you enter. With a brilliant wall featuring thousands of nail polishes, customers have a sea of colors to choose from when it comes to their manicure and pedicure. Bliss is a natural salon, so no artificial or acrylic nails are offered, allowing the space to be free of dust and chemical odor. In addition to the eight pedicure and nine manicure stations, a private room for face waxing has been added.
Bliss Natural Nail Care services utilize single-use tools for both manicures and pedicures, and removable single-use linings for pedicures. The salon's stringent cleanliness policy was enhanced in deference to the nation's new recommendations in relation to COVID-19. A sink has been added to the welcome area for guests to wash their hands before and after their spa treatment; temperatures will be taken upon arrival; plexiglass has been added to all workstations; social distancing is being adhered to with every other workstation in use as a given time; and a maximum of ten people will be allowed in the spa at one time.
Co-owner Kelly Vo is thrilled to be a part of the Clarksville Commons community. "I have wanted to open a nail salon in this area for such a long time. The opportunity to be here at Clarksville Commons is exciting for me and I hope to become a valuable member of this business community."
Clarksville Commons is approximately 50,000 sq. ft sustainable, mixed-use commercial center, creating a sense of place on Route 108 in the center of Clarksville. Clarksville Commons features environmentally sustainable architectural design, including photovoltaic solar panels, a green roof, cisterns to capture rainwater, and porous pavers and rain gardens for storm water runoff mitigation. Clarksville Commons is a winner of the Wintergreen Award for Excellence in Green Building by the United States Green Business Council (USGB).