Farmers Market Spring Previews at Clarksville Commons
February 17, 2022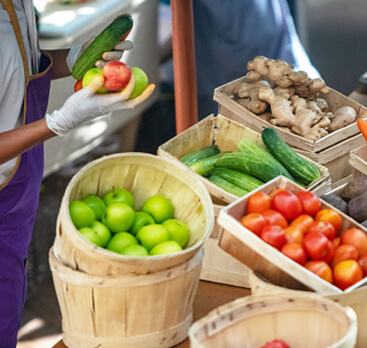 Clarksville, MD – Spring is just around the corner and that means the Clarksville Commons Farmers Market will soon be here! This year, the Commons will host two Spring Preview Markets on Saturday, March 5 and Saturday, April 2, 2022, from 10am-2pm.
This year's market will feature several local farmers who are regulars at the Market including: Hensing's Hilltop Acres; Clark's Farm; Kindread Hill Farm; Pong's Orchard; Blue Gables Farm and Mojo Mushroom Farms. Great Harvest Bread Co., Balti'Marons, and Scoop & Paddle Ice Cream Company will also be at the market on a weekly basis. In addition to the regular weekly vendors, Clarksville Commons Farmer Market will feature more than a dozen half-time and monthly local food and craft vendors including Chez Tania, Metro Microgreens, Ellicott Distilling Co., The Salvaged Stitch, Raw Blossom, Real Food Real Tasty and more throughout the season.
George and Holly Stone, principal developers of Clarksville Commons, are excited to announce that the farmers market will once again be participating in the Maryland Market Money program, with twelve vendors selling eligible foods. MMM is a matching program that allows community members receiving SNAP and FMNP benefits to stretch their dollars at farmers markets. MMM allows Clarksville Commons to match up to $10 per household, per market day, for SNAP and FMNP-eligible foods. "Clarksville Commons is still the only market in Howard County, to date, to offer Maryland Market Money," stated Holly Stone. "The Commons' market participating in the MMM program means more options for members of our community to have access to local, fresh, healthy food. We hope that being part of this program allows members of our community not just greater access to the food, but also connection with the farmers that grow it."
Clarksville Commons, Howard County's first sustainable mixed-use commercial center, features environmentally sustainable architectural design and a focus on environmental stewardship and community impact. Every business at Clarksville Commons is encouraged to embrace sustainability and use environmentally conscious products.
For additional information contact Anastasia MacDonald at amacdonald@clarksvillecommons.com or 301-854-2090.