Manow Thai Now Open at Clarksville Commons
August 24, 2021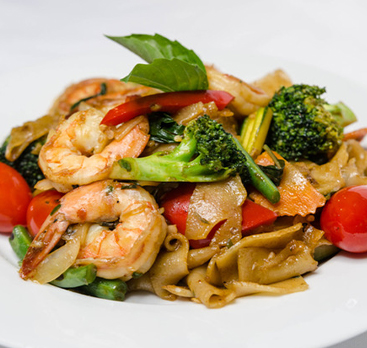 Clarksville, MD – Clarksville Commons is pleased to announce that a taste of Thailand has come to Clarksville with the opening of Manow Thai. The fast-casual style restaurant will be located between YouPizza and Bliss Nail Salon.
Manow Thai is the second restaurant that family members Pun Kaotira and brother-in-law Pong Amornkit will operate together. Their Severna Park carry-out only restaurant, Thai Paradise, has a loyal following and has helped the entrepreneurs gain valuable experience. Pun, and his sister Pam, were raised in Clarksville after their parents emigrated from Thailand and both are graduates of River Hill High School. They look forward to Manow Thai becoming a vibrant family restaurant and bringing the bold flavors of Thai cooking to the community.
"We loved growing up in Clarksville. The tight-knit community was so welcoming, and it was our dream to be able to return here to open a restaurant," Pun explains. "Clarksville Commons has such a tremendous focus on community that we just knew it would be a natural fit. We can't wait to bring great service and memorable Thai food to Clarksville and Howard County.
The word "Manow" in Thai means lime and is a unique and star ingredient in many Thai dishes. The citrus fruit brings the zesty sour flavor that ties together the sweet, salty, and sometimes spicy notes in Thai food. The restauranteurs will be serving high-quality, fresh dishes packed with flavor that will accommodate all dietary needs by offering vegetarian, vegan and gluten-free options.
The restaurant will provide counter service in the fast-casual style, but will also have indoor seating for those wishing to dine-in. The extensive menu will also include beer and wine upon approval of their liquor license.
Clarksville Commons is an approximately 50,000 sq. ft sustainable, mixed-use commercial center, creating a sense of place on Route 108 in the center of Clarksville. Clarksville Commons features environmentally sustainable architectural design, including photovoltaic solar panels, a green roof, cisterns to capture rainwater, and porous pavers and rain gardens for stormwater runoff mitigation. Clarksville Commons is a winner of the Wintergreen Award for Excellence in Green Building by the United States Green Business Council (USGB).