Dance & Dine at Koshary by Misteka
January 1, 1970
11:00am - 12:30pm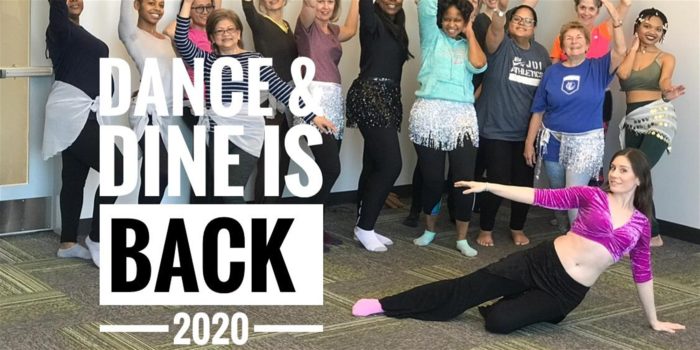 It's the second season of Dance and Dine – a belly dance class followed by a delicious Egyptian meal at Koshary by Misteka in The Common Kitchen.
Join us for a unique Egyptian experience through Belly Dance, also known as "Oriental Dance." The dance consists of complex movements of the torso that focus on core & hip muscles and is generally performed barefoot, thought by many to emphasize the intimate physical connection between the dancer, her expression, and Mother Earth. This low impact exercise can help relieve back and joint pain, increase bone density, help lose weight and reduce stress levels.
After class, you get to enjoy a warm bowl of koshary, the national dish of Egypt, and a fiber and protein packed meal that is sure to pleasantly surprise your palate. Eating healthy (hearty plant-based) and staying active is both fun and delicious!
Classes will take place in the Community Room (Suite D) at Clarksville Commons on on Saturday.
Ticket price is $25 and includes:
– A five minute introduction to the origin, history and progression of Belly Dance.
– A 55 minute class lead by Asala El Masri, a professional Belly Dance, Bollywood and Persian dance artist.
– An after class lunch at Koshary by Misteka. Each participant gets a fresh, delicious, plant-based meal. You can enjoy the meal with friends in The Common Kitchen or you can order your meal to go.
Please arrive 5-10 minutes early.
This is a ladies only event. Hip wraps will be provided or show off your own. Space is limited; buy tickets in advance to reserve your spot.
Buy your tickets here.