Clarksville Commons Wins Wintergreen Award for Excellence in Green Building
January 1, 1970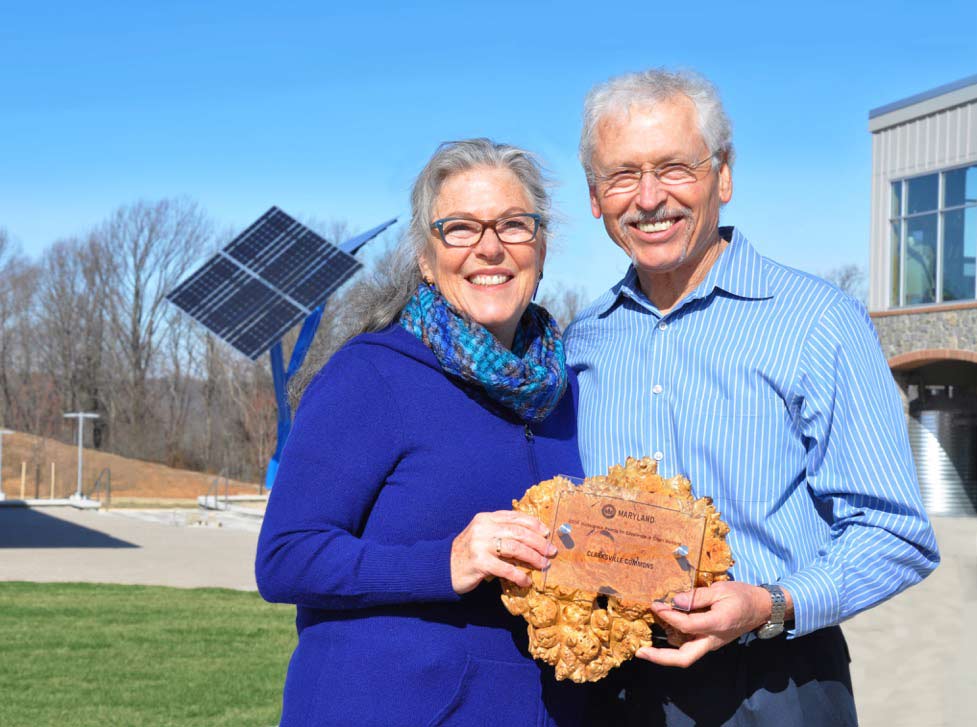 Clarksville, MD — Clarksville Commons has captured the Wintergreen Award For Excellence for "Small Commercial Redevelopment" from the United States Green Business Council (USGBC) Maryland. The presentation was made at the 12th Annual Awards Celebration on January 26, 2017 at the Exelon Baltimore Headquarters.
The awards celebrate, promote and recognize excellence in high performance, healthy design and building; environmental stewardship and community impact; and serve to highlight the green building initiatives and achievements of the USGBC Maryland community projects, businesses, local members and other individuals.
Clarksville Commons features environmentally sustainable architectural design, including photovoltaic panels, a living green roof, cisterns to capture rainwater, and storm water runoff mitigation through rain gardens and porous surfaces.
Clarksville Commons is a 40,000 sq ft sustainable, mixed-use commercial center, creating a sense of place on Route 108 in the center of Clarksville. The developers are GreenStone Ventures II, LLC, whose principals, Holly and George Stone, have lived and raised their family in Clarksville for over 25 years.
Clarksville Commons construction is near completion and tenants have begun their build-outs with openings scheduled for later this spring. The center will feature Food Plenty, a restaurant offering made from scratch comfort food, according to Victoria Restaurant Group Proprietor Randy Marriner. Clarksville Commons will also feature You Pizza, Kupcakes & Company, Creig Northrop Real Estate, and Vanguard Orthodontics. The Stones are seeking additional tenants who will adhere to the sustainable principles of Clarksville Commons and by so doing will add to a sense of place for the community.
The Stones are "thrilled" that Clarksville Commons has been recognized for being a leader in sustainability and look forward to the community enjoying all it will offer as a gathering place for everyone. www.clarksvillecommons.com