Clarksville Commons Hosts Howard County Farmers Market
April 26, 2017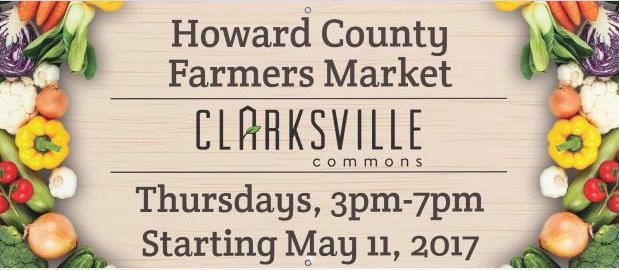 Clarksville Commons is proud to announce they will be hosting the Howard County Farmers Market starting May 11 on Thursdays from 3p – 7p on the plaza and in the parking lot.
Howard County's popular Farmers Market has continued to grow and expand over the years and Clarksville Commons is delighted to participate. "We purposefully designed Clarksville Commons to be a welcoming gathering space for the community," explains developer Holly Stone. "Our hope is that friends and family can work, shop and eat in a vibrant center that is dedicated to sustainability. Hosting the Howard County Farmers Market seemed like a perfect relationship and we are thrilled to bring many of the popular vendors, along with a few new ones, to Clarksville shoppers."  The Howard County Farmers Market is a producer-only market, which means that the vendors only sell items they have grown or produced themselves. Additionally, all produce vendors at this market are based in Howard County, helping to reinforce buying local within the community.
Clarksville Commons is located on Route 108 at Great Star Drive and is a sustainable mixed-used center.